History for April 5 - On-This-Day.com:
Thomas Hobbes 1588, Joseph Lister 1827 - British surgeon, inventor (Listerine mouthwash), Robert Smalls 1839
Booker T. Washington 1856 - Educator, author (Up From Slavery), Colin Powell 1937 - U.S. Secretary of State, four-star general, Chairman of U.S. Joint Chiefs of Staff, Agnetha Faltskog 1950 - Singer (ABBA)
1614 - American Indian Pocahontas married English colonist John Rolfe in Virginia.
1869 - Daniel Bakeman, the last surviving soldier of the U.S. Revolutionary War, died at the age of 109.
1887 - Anne Sullivan taught Helen Keller the meaning of the word "water" as spelled out in the manual alphabet.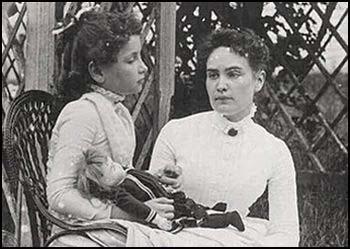 1892 - In New York, the Ithaca Daily Journal published an ad introducing a new 10 cent Ice Cream Specialty called a Cherry Sunday.
1923 - Firestone Tire and Rubber Company began the first regular production of balloon tires.
1930 - Mahatma Ghandi defied British law by making salt in India.
1986 - A discotheque in Berlin was bombed by Libyan terrorists. The U.S. attacked Libya with warplanes in retaliation on April 15, 1986.
1998 - The Akashi Kaikyo Bridge in Japan opened becoming the largest suspension bridge in the world. It links Shikoku and Honshu. The bridge cost about $3.8 billion.