State Licensure Mandate Ensnarls Another Hair Braider [Michigan Capitol Confidential]
:
"The state of Michigan issued a cease-and-desist order to a hair braider in a Kalamazoo salon last year for
washing a customer's hair without a license.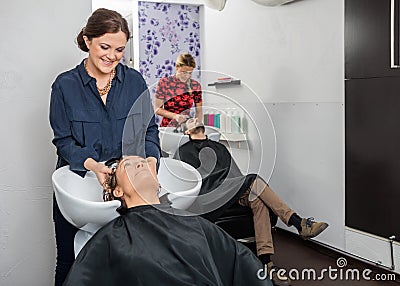 A state investigator discovered an unlicensed hair braider had
rinsed out the hair of a customer who had arrived with her hair already shampooed.
Michigan law requires establishments that provide various haircare services such as hair cleansing to have a state-issued cosmetology license.
To obtain a license, students must pay an institution for 1,500 hours of training (in the case of one Kalamazoo-area beauty school,
$13,800
) and then complete a state exam.
Hair braiding licenses are optional but getting
a cosmetology license to legally shampoo hair for pay requires

25 times as much mandated training as a residential builder,
who builds homes for a living.
Kimberly Buddin-Crawford, policy counsel with the ACLU of Michigan, said this state has more occupational licenses than almost any other state..."
Read on!